In the beginning there was a name: Mike Claridge - EFL teacher and life-long theatre buff.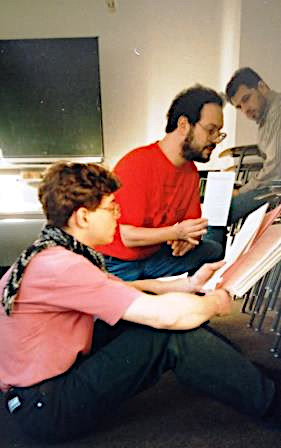 Mike (middle) at rehearsal with
Martin Salzer and Rainer Streng
Mike started working for the University of Bamberg as lecturer of English (EFL) in the eighties, and since he brought with him considerable stagecraft experience, the decision to start producing plays in English was only natural. Mike's devoted and intense rehearsal style and his great instinct for casting always ensured that everybody involved came out of his productions with a wealth of memorable moments, experiences of the English language, and great friendships.
Today, Mike teaches at Johannes-Gutenberg-Universität in Mainz and has directed around 50 full-scale productions at different universities in Germany.
The first years in Bamberg were characterised by changing venues (mostly secondary schools in Bamberg) but consistently vibrant productions, which are portrayed below. 
---
1984: Oscar Wilde's The Importance of Being Earnest
What better way to start the life of a drama group than with The Importance of Being Earnest? Witty dialogue, word play, and, of course, cucumber sandwiches. A number of organisations acted as midwives to the BUEDG's birth, most notably, of course, the Institue of English and American Studies, the "Deutsch-Englischer Club Bamberg", and the US Army garrison in Bamberg, which kindly offered their "stable theatre" for rehearsals and performances.
---
1985: Keith Waterhouse and Willis Hall's Billy Liar
This comedy is set in a small Yorkshire town. The protagonist Billy, who is bored with his life and job, indulges in a rich world of fantasy and dreams of a life as a writer in a big city.
---
1986: Thornton Wilder's By the Skin of our Teeth
This allegorical play, which earned Wilder the Pulitzer Prize for Drama, was first performed in 1942 and centers on the history of man and the survival of the species, exemplified by the Antrobus family.

 

 

 
---
1987: William Shakespeare's A Midsummer Night's Dream
Some scholars believe that A Midsummer Night's Dream was not originally written for public performance but for private weddings and festivities. It is highly likely that Queen Elizabeth I was present at the play's first performance. A Midsummer Night's Dream is comparatively short, although there are many opportunities - some explicitly stated, others of an implicit nature - to lengthen the whole through dances and songs, something which would add to the festive celebrations of a wedding ceremony. Our production was lavish, festive, and - of course - highly enjoyable.

 
---
1988: Witty, Wicked and Weird - The BUEDG Revue
A collection of all of our favourite sketches and a staging of Woody Allen's short play God, this revue was unadulterated fun for the actors, the crew and, of course, the audience. All actors had to play more than one role.  The local newspaper Der Fränkische Tag reviewed the play as such: "Mehr als drei Stunden lang wurde Angriff auf Angriff auf die Lachmuskeln der Zuschauer geführt und ein Feuerwerk an Gags abgebrannt, eine bunte Mischung aus farcenhaftem Klamauk, Situationskomik, verbalen Doppeldeutigkeiten und schwarzem englischem Humor." (For more than three hours, the audience was incited to one bout of laughter after the next with a colourful mixture of slapstick, situational comedy, double entendres and dark British humour).

 
---
1989: Alan Ayckbourn's Bedroom Farce
Ayckbourn's comedy about different relationships which are falling apart compares relationships between different generations and uses that as a vehicle for a general examination of relationships between husband and wife; the final resolution of the plot is less important than the implication to the spectators that they should actively examine their own relationships.

 

 
---
1990: William Shakespeare's Twelfth Night
Another production of one of Shakespeare's most popular comedies contains many aspects of confusion of identity, deception and illusions.  The subtitle "What You Will" also reflects the mood of Twelfth Night celebrations, the idea of sentiment, frivolity, tricks and foolery - a mood, indeed, of whatever you would like. This concept of light-heartedness, of a lack of seriousness, is continued in one of the leitmotivs of the play, the phrase - as voiced by Feste, the Clown, and Sir Toby - "that's all one"; life shouldn't be taken so seriously, since nothing - especially where unimportant things are concerned - is worth making a mountain out of a molehill.